2nd November 2019
The best blankets for winter
It's getting cold and with Christmas a-coming you're likely to be thinking about housing everyone from Great Auntie Kathleen to the family's latest babe-in-arms. Just as hospitality means providing delicious, hearty meals and great drinks, it also demands providing a sound and cosy night's sleep. No-one wants to be shivering on the sofa. Layer your beds with the best blankets for winter to ensure all your guests dream sweetly. Even baby.
What is the best blanket for winter?
Number 1 on our list of requirements for a bed blanket is that it covers the whole bed! We insist that all our blankets are large enough that no toes need to peek out at the end of the bed and freeze. They are warm enough to replace a duvet in summer - as a traditional bed cover over a linen or cotton sheet. In winter, they'll give that extra layer of warmth over your duvet (which can be wool too, if you please!)
All our bed blankets are made from natural fibres, and for two very good reasons: 
Natural wool is breathable and cosy in a way a man-made fibre can't replicate. 

It's also far better for the environment - no microfibres to clog the waterways here.
We like to think we are what is charmingly termed, wool subject matter experts. That is, our particular focus (read: obsession) with wool allows us to research and discover the finest quality, most ethical provenance and best value for money woolen blankets on the global market. We're wool fanatics and we're excited to pass the fruits of our labours on to you.  
It's widely shown that a heavy blanket gives you an incomparable sense of wellbeing, allowing you to drift off, anxiety-free into a deep sleep. There are companies selling specially weighted microfibre blankets and while we applaud their entrepreneurship, we'll be sticking with the all natural, woolen version.
Which winter bed blanket to chose
Our selection of cold weather blankets is the largest in the UK. The range includes those woven in England, Wales, Italy and Portugal, and in a veritable rainbow of colours, weights and textures. We realise being faced with such a wealth of choices can feel a little baffling, so here's our winter blankets for bed 101: 
One of our favourite Pure New Wool blankets is the Italian-designed Emilie Double-Faced blanket. It's springy, soft, warm and cosy, and bound on all edges with a beautiful fabric edging. Even better, you get two blankets in one with the dual colour scheme. We've picked contrasting but complementary tonal colours, each with a sandy reverse which looks perfect folded down at the head of the bed, or in half at the base. 
We've seen them looking fabulous in country cottages and city loft apartments. We're always curious to see how our customers style our blankets, do tag us @the_wool_company in any Insta pics for a little bed blanket inspiration!
Our only patterned blanket is the lambswool Melin Tregwynt Polka Dot blanket, woven in Wales and seen in interiors magazines the world over. The manufacturer has been creating their stunning fabrics from a small, family-owned mill in the heart of the Pembrokeshire hills for more than a century. This king size 'doublecloth' blanket is smooth and hard-wearing, easy to care for and oh-so-cosy. We've chosen the striking deep aqua, creams and brown dotty colourway. Complement this with matching throws and cushions.
Softest merino for winter warmth
Merino wool is acknowledged to be the softest wool in the world and so makes an excellent top blanket and is softest against the skin. Most people chose our British made John Atkinson Duchess Merino blanket with its beautiful coordinating satin binding on all four edges. It's medium-weight and light enough to layer, taking you from spring right through to the depths of winter. These are so popular we keep them in stock for next working day delivery - they're always in demand!
John Atkinson Duchess Merino Blankets
For particularly chilly nights, or those who feel the cold, choose our gorgeous Provence Super Warm Merino Blend Blanket. This is a carefully selected, international blend of wools. Pure new French wool gives bulk and warmth; Australian merino provides softness and South America wool adds strength and durability! We've chosen a 20%:80% (merino : pure new wool) blend for a strokeable finish and springy bounce. This super warm blanket uses wool's wonderful powers to retain body heat while drawing humidity away from your body. Result: a warm, dry night's sleep. 
When only the finest wool blankets will do…
Then it has to be cashmere. We've a stunning range of simply beautiful cashmere bed blankets. It's hard to pick a favourite, but near the top of the list is the naturally white Geisha Cashmere Blanket.  
Only the very finest, naturally whitest fibres are chosen to create this medium-weight blanket. It is posted out to you in a luxurious presentation box, which you'll probably keep for storage too. We always have these in stock for immediate posting. 
Reversible cashmere blanket
Here's another double sided cashmere blanket that gives your decor an incomparable edge. Choose from a soft grey and cream combination, or the softest sand and cream colourway. Cocoon yourself within its embrace at night and you'll dream the sweetest dreams and awake refreshed. 
Lussuoso Cashmere Double Sided Blanket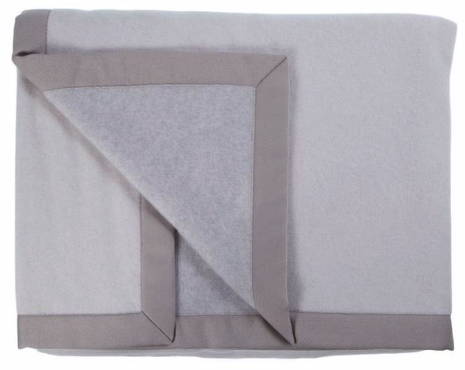 Exquisite luxury, made to order
There's a reason this iconic Cashmere De Luxe blanket adorns royal beds, super yachts and super-luxe hotels. It really is the ultimate in softness and warmth. It's the cream of the crop. The softest cashmere fibres are brushed in tiny quantities from the underbelly of the cashmere goat, making it one of the most desirable natural fibres you can buy. The result is a silky soft, utterly tactile blanket that will make jumping into bed a real joy! Real silk binding is the finishing touch. Every blanket is made to order, for you. They're an investment piece that will last a lifetime.
To quiz us about which winter blanket you should have, please drop us a line, any time.
Lambswool Crab Apple Mulled Cider

Knitters's Golden Fleece

With our crab apple trees heaving with their autumn ready fruit, and little desire to turn it all into jellies, we decided to try this delightful 'lambs wool' mulled cider for a change. We think it would make a perfect Halloween party refresher!
Lambswool is a traditional British hot beverage made with crab apples. When you pout them in the hot cider they burst like popcorn, creating a "woolly" head to the drink. Crab apples freely available in the hedgerows but also surprisingly you can find them on city streets. You'll be pleased to know that none of them are poison and although not all varieties will burst, they look gloriously autumnal bobbing on the cider.
We had a go... and found we could make it less or more boozy by adjusting the quantities of apple juice against cider. Be prepared squeeze plenty lemon juice juice in if you're making a completely non-alcoholic version.
Preparation time: a full 2 minutes
Cooking time: 5 minutes
These Quantities make 2 litres
INGREDIENTS
1 litre dry cider
1 litre apple juice
8 cloves
4 cinnamon sticks
2 star anise
A thumb-sized piece of fresh ginger, sliced
A generous mugful of crab apples
Lemon juice and honey to taste
METHOD
Put apple juice, cider, cinnamon sticks, cloves, ginger, star anise and crab apples into a pan and gently heat until it comes to a slow simmer.
Turn off the heat, taste, and squeeze lemon juice in or and maybe some honey to taste.
We used Golden Hornet Crab apples today and they didn't turn into Lambswool!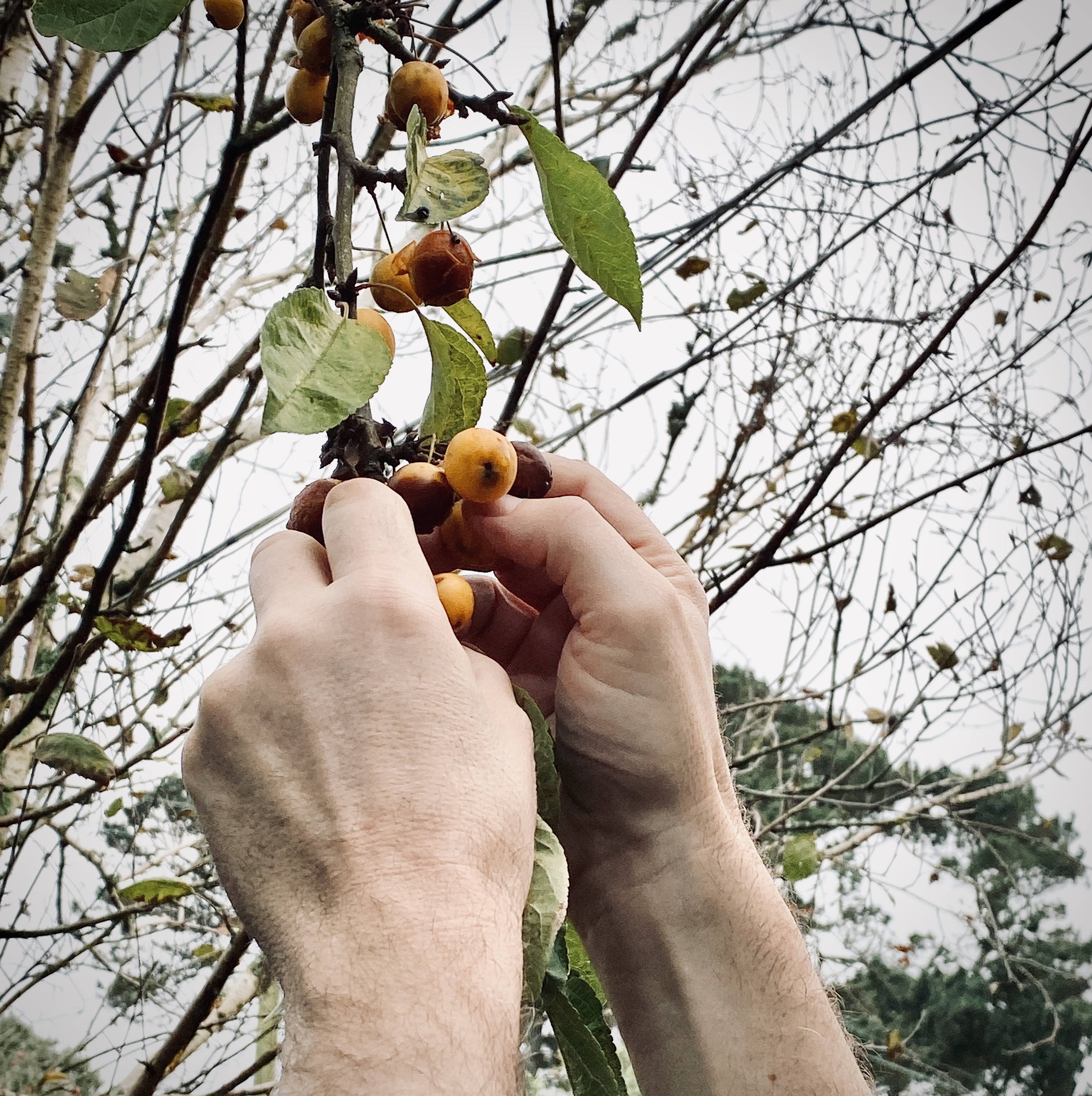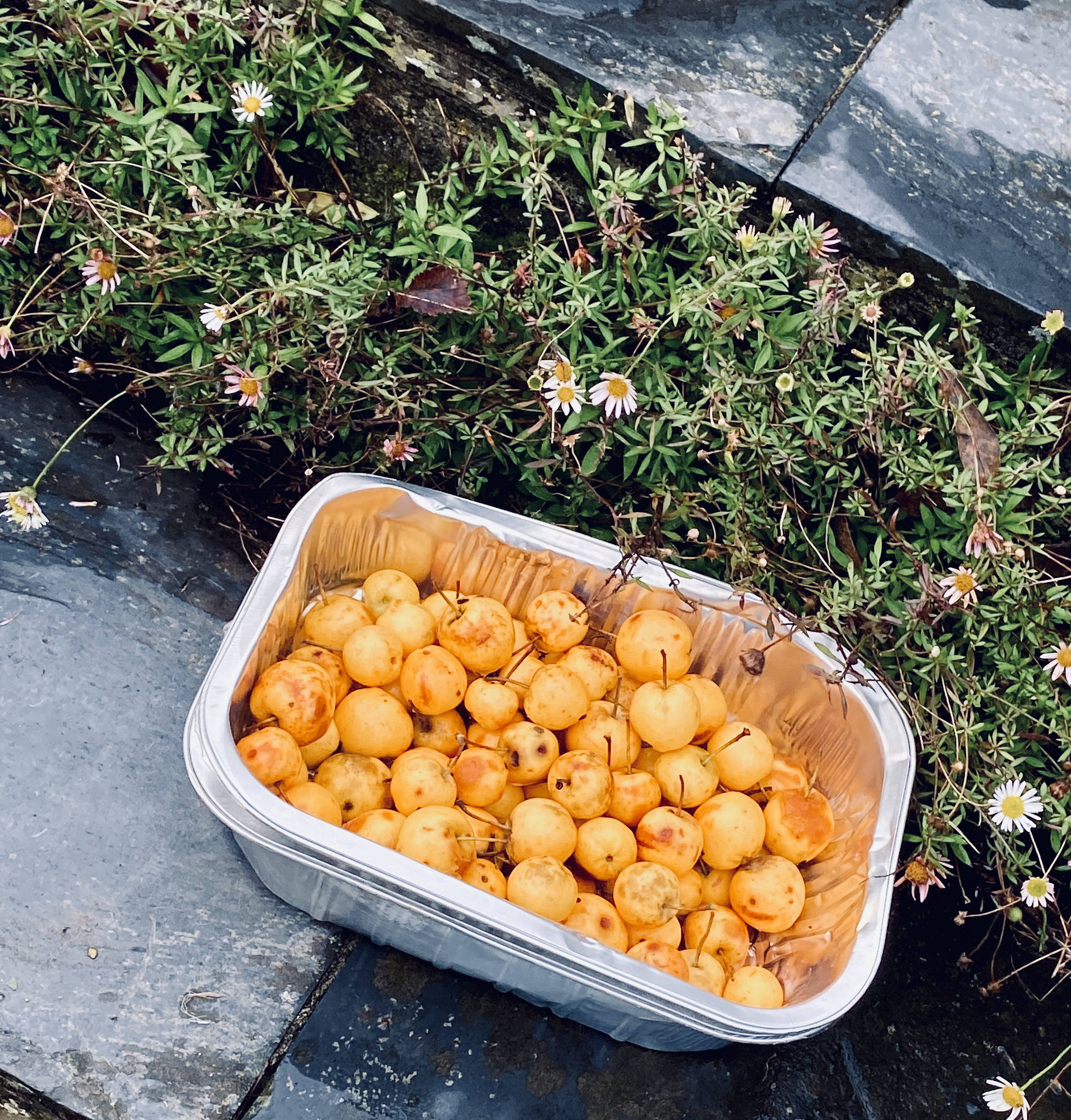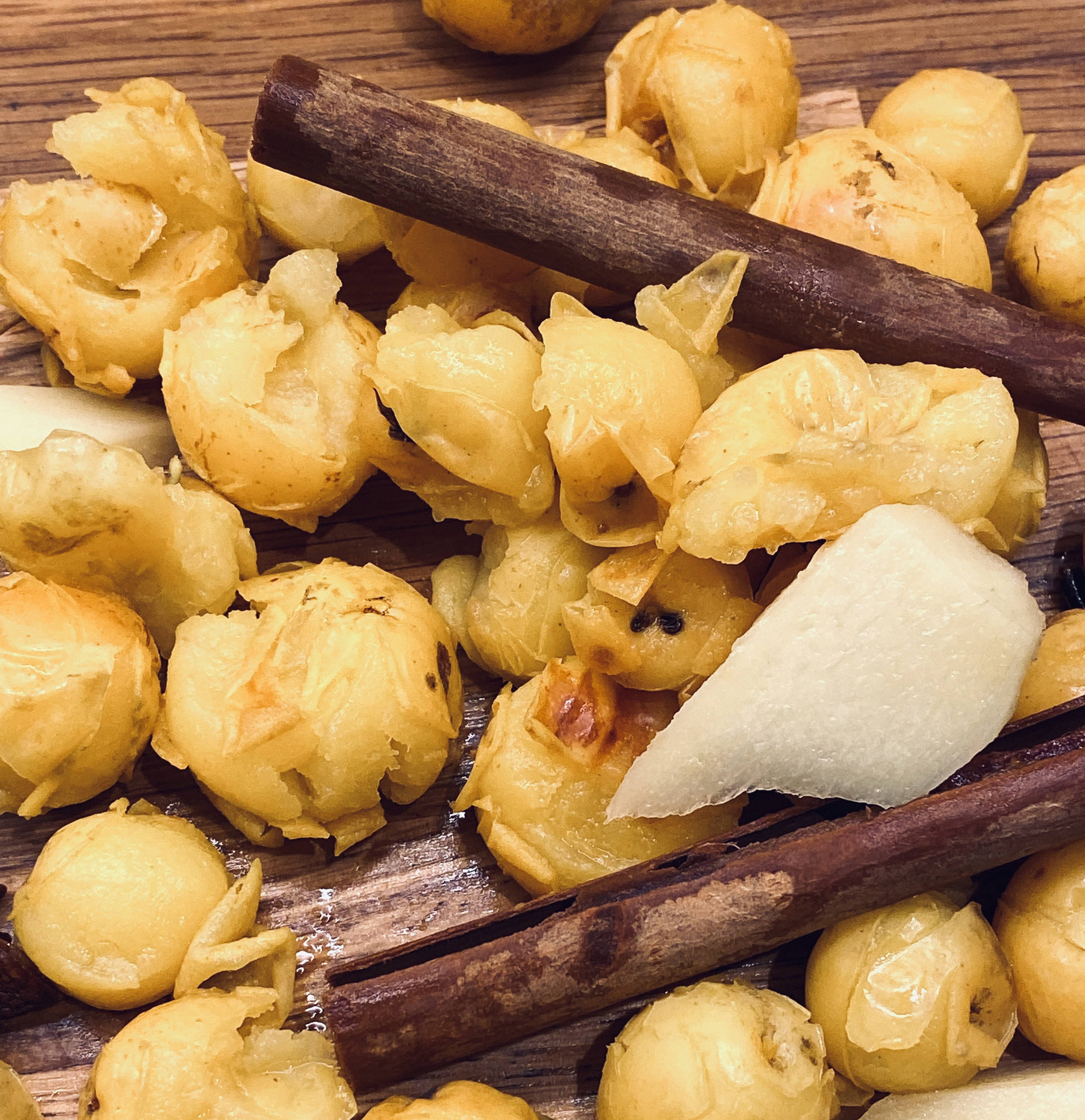 Good news for knitters, who have been developing their analytic geometry, abstract algebra and topology through their hobby. Or so says Esther Rutter, as she traces the fascinating history of wool and knitting throughout the British Isles in This Golden Fleece. It's a great yarn.